It is of particular interest to examine pre-employment drug screening for marijuana use, which is subject to ever-changing regulations at all levels of government. Amazon said it would end all pre-employment marijuana drug testing on June 1, 2021, replacing it with a similar assessment of alcohol consumption for all jobs outside those subject to federal regulations.
As a result of the e-commerce giant's move, many employment law attorneys predicted a "ripple effect" in compliance due to the division over marijuana legalization at the local and state levels and the need to attract talent, among other factors. Changing policies are partly a response to changing laws, but also to employers' desire to compete for talent.
Currently, 19 states legalize recreational marijuana use to some degree, and a larger number of states have medical marijuana programs. One of the latest examples is California, which passed a law banning employers from discriminating against state residents who use cannabis off-the-clock.
Employers could find clarity in California's law, as it continues to permit employers to test employees for cannabis use provided they do not screen for nonpsychoactive cannabis metabolites as part of such tests – in other words, employers may still use tests to detect cannabis-associated compounds such as THC, which may have psychoactive effects. However, employers may still object to that approach since the category of tests that would comply with California's law are expensive and potentially hard to obtain.
The importance of managerial training cannot be overstated
In spite of legalization efforts, employers are generally permitted to establish policies prohibiting drug use and impairment in the workplace. The distinction has led to a rise in customized workplace policies that explain why and when these prohibitions are implemented.
Workplaces may rely on managers to determine when they suspect an employee of being under the influence of alcohol or drugs. In addition to choosing the right party to conduct this training, employers should consider developing a checklist that lists the behaviors managers should monitor as part of the process.
Managers are not necessarily best suited to handle every stage of this process, especially if there are underlying medical conditions involved. Employers might want to entrust such tasks to HR directors who know what questions they can and cannot ask.
During times when HR personnel might not be readily available, such as during late shifts, management should document any observations as best they can. Employers are encouraged to review their policies annually, and to take an approach to drug testing based on their jurisdiction. It is a new era for employers to consider. They will certainly want to consider their policies more carefully.
Download our latest eBOOK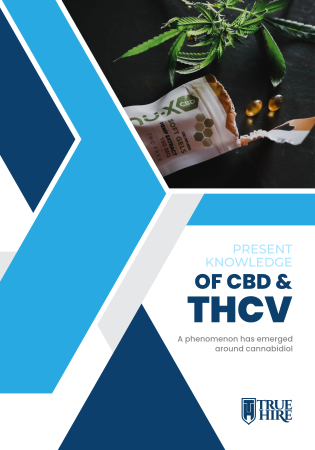 There are hundreds of naturally occurring compounds in cannabis plants, including CBD. The concentration of THC in marijuana and hemp products varies, and hemp-derived CBD is less likely to contain THC.