Recognizing the need for nonprofits to carefully screen their volunteers and employees on a budget, we have very specific packages to meet the needs of charities and volunteer organizations. Our applicant-pay option enables volunteers to donate the fee of their own background check directly to the organization. Ease and convenience are woven into all we do. We have many options for background check requests, results delivery, and invoicing to suit your needs. We also provide seamless integration with your organization's applicant tracking software.
STEP 1
We talk about your hiring process, and learn the needs of both you and your organization.
STEP 2
We identify the best screening solution for your group and how we plan to integrate into your current ATS platform.
STEP 3
We streamline the process to automate the intricacy of background checks for large organizations.
Packages specifically designed for Volunteer organizations
Social Security Number Trace
This report is critical to establish positive identification of an applicant and can uncover hidden or undisclosed information. A Social Security Number Trace verifies the applicant's name, current address, previous addresses, aliases used and validity of the Social Security number.
TrueCrim
This is a national database search of more than 600 million criminal records is an exclusive product that instantly searches the largest repositories of criminal records for the entire country. It includes the OFAC Global Terrorist Search, homeland security databases and more than 130 million individual county, state and national criminal records! True Hire recommends this as an add-on product to supplement the more detailed county-level searches.
County Criminal Search
This search for reportable felony and misdemeanor records within the applicant's current or previous counties of residence is vital to the safety of your company. A county criminal search can help you avert violence issues and reduce your liability with hiring problems.
National Sex Offender Search
This search will check the National Sex Offender Registry. Our database searches all 50 states individually. The registry lists all individuals who are required to register throughout the US. The search is important to keep employees and clients safe from possible predators.
Education Verification
An Education Verification confirms educational background information including dates of attendance and the highest degree received.
Employment Verification
Verifying an applicant's previous employment assures the accuracy of the application and uncovers lies, omissions and exaggerations. Prior job performance information is provided. (Subject to state regulations.)
Drug Testing
True Hire makes it easy for you to incorporate a drug screening policy. Our partners have testing centers located throughout the country to accommodate your needs. Click here to learn more about drug testing.
Education
Make sure your students are safe by screening adult volunteers at your elementary, middle or high school. We also do background checks for colleges, libraries and private schools.
Sports
Screen your school, youth or collegiate coaches and others who volunteer with your sports teams before they start working with the athletes.
Public Service
Screen volunteers who will be working with vulnerable populations, like children, elderly or homeless, to make sure that your clients aren't being taken advantage of.
Religious Organizations
Volunteers frequently have a highly public role on behalf of a nonprofit corporation. You can manage several risks by effectively screening, evaluating and placing volunteers.
Youth Development
Keep the children your organization serves safe by screening mentors, coaches, troop leaders and other adults they may come in contact with.
Healthcare
We serve a diverse array of hospitals, nursing homes, clinics and pregnancy support centers to ensure the safety of their patients.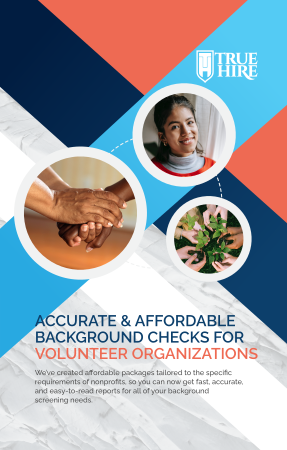 Download our latest eBOOK
We've created affordable packages tailored to the specific requirements of nonprofits and volunteer organizations.
We understand you need thorough, accurate results quickly.
Which is why our 26 years in business, and leadership team with over 100 years of combined experience in the screening industry, is there to deliver efficient results and compliance options to process the quantity of reports required for your company.
True Hire is certified by the Professional Background Screening Association which holds our company to the highest standards & utmost integrity in the industry.
We're always here to help with exceptional U.S. based customer service and our leadership is just a call away on a daily basis.
Give yourself more time, better talent, and maximize the power of the people in your organization. Have questions or want to talk challenges and viable solutions? We're here for you.