Educators are in a special position since they work with kids, some of whom might be exceptionally young. Administrators and guardians want to do everything possible to safeguard children in school and guarantee that they are educated in a secure environment. One method for guarding kids is to conduct background checks on potential instructors before they are employed to discover if they have a criminal record or some other warnings.
School districts commonly conduct a federal criminal background check on candidates for teaching positions. Before a national criminal registry was created, individuals with criminal records could move from state to state, and employers would not learn about convictions in different states. With the new framework, an organization can see convictions for crimes perpetrated in any state and the punishment, including jail time, probation, or a fine. Depending on the nature of the crime, an applicant would possibly no longer be in a position to get a job as a teacher. A few serious offenses will consequently ban an individual from working with kids. Regulations change from one state to another.
Each state has slightly different requirements with regard to background checks for teachers. This truth was widely discussed when a USA Today article graded each state based on its policies and practices for teacher background checks. In that report, just seven states procured an "A" grade, while 12 states and Washington, D.C. all failed. The report highlights how drastically background checks for educators can fluctuate from state to state and even from one school to another.
In certain states, criminal history searches, work history verifications, and other record checks are required at the state level. The state conducts these investigations after a teacher applies for certification. An instructor cannot get a teaching certificate in that state without passing a background check.
Indeed, even in states where educators have gone through background checks at the state level, schools might require additional assessments of their own. These checks can incorporate more criminal history screenings, professional license checks (to confirm instructor certification), reference checks (to learn about a teacher's experience from previous employers or colleagues), education verification checks (to make certain the instructor has the proper degrees to teach certain subjects), searches of sex offender and child abuse registries, and many schools require regular drug testing for employees.
When it comes to teacher background check processes, schools are first obligated to comply with state laws. Implementing extra checks past what the states require is possible, and it very well might be one of the most critical steps that schools can take to absolutely safeguard their students and staff.
Download our latest eBOOK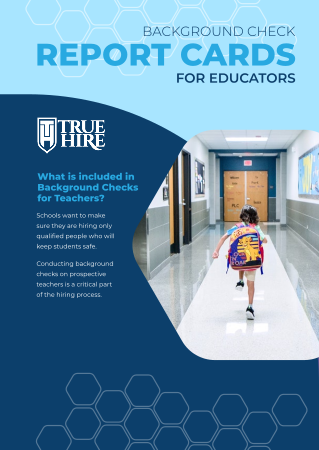 Conducting background checks on perspective teachers is a critical part of the hiring process.