For the 3rd Time, True Hire Earned a Ranking on the Inc. 5000, Considered One of the Fastest-Growing Private Companies in America with Three-Year Revenue Growth of 121 Percent
NEW YORK, August 16, 2022 – Today, Inc. revealed that Ohio background check company True Hire is No. 3996 on its annual Inc. 5000 list, the most prestigious ranking of the fastest-growing private companies in America. The list represents a one-of-a-kind look at the most successful companies within the economy's most dynamic segment—its independent businesses. Facebook, Chobani, Under Armour, Microsoft, Patagonia, and many other well-known names gained their first national exposure as honorees on the Inc. 5000.
"We're super excited that we're selected again to be on the Inc. 5000," said True Hire CEO Stephanie Froelich. "We're always striving to do the best we can for all our clients. We're always increasing our service and trying to be the best background check company around."
The companies on the 2022 Inc. 5000 have not only been successful, but have also demonstrated resilience amid supply chain woes, labor shortages, and the ongoing impact of Covid-19. Among the top 500, the average median three-year revenue growth rate soared to 2,144 percent. Together, those companies added more than 68,394 jobs over the past three years.
"The accomplishment of building one of the fastest-growing companies in the U.S., in light of recent economic roadblocks, cannot be overstated," said Scott Omelianuk, editor-in-chief of Inc. "Inc. is thrilled to honor the companies that have established themselves through innovation, hard work, and rising to the challenges of today."
True Hire has been in business for 26 years and since 1995 has provided high-quality background checks for both corporations and non-profit organizations regionally and nationwide, but more than that, they provide peace of mind, safety, and protection to these entities.
The team at True Hire understands that businesses need better quality hires to reduce employee turnover and non-profits need trustworthy volunteers to protect their most vulnerable community members.
Being listed on the Inc. 5000 demonstrates True Hire's expertise and authority in the background check industry which translates into exceptional service and new opportunities for clients. Because of True Hire's innovative strategy and perseverance throughout the past several years, the Canton-area background check company was able to more than double revenue from 2018 to 2021 despite the many obstacles that arose due to the pandemic.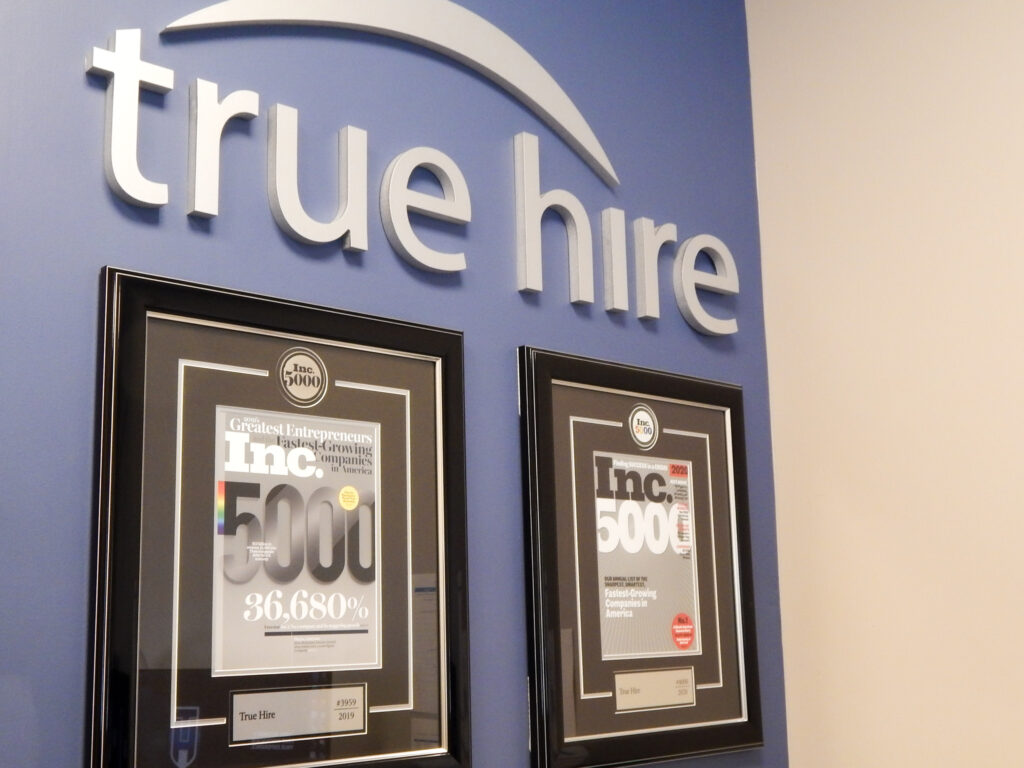 "Our marketing and sales teams worked really hard as a joint effort to make sure that we were constantly increasing our services offered to our current client base," said Froelich. "We also continued working on partnerships and integrations with other businesses, so that we could always keep moving forward by signing new clients in addition to accommodating current clients, making sure they both had the best services we could offer."
True Hire offers flexible background screening and drug testing solutions for corporations in the quick serve restaurant industry, as well as the hospitality and insurance industries. Regarding the non-profit sector, True Hire focuses on serving the education and healthcare industries, but caters to a variety of sport, public service, youth development, religious, and community organizations.
Above all, True Hire believes the background screening process should be easy, simple and painless for both their clients and their clients' candidates.
True Hire is certified by the Professional Background Screening Association which holds the company to the highest standards and utmost integrity in the screening industry. In addition to being ranked on the Inc. 5000 list for three years, True Hire has also won the Weatherhead 100 award four times, naming True Hire as one of the fastest-growing companies in northeast Ohio. The Weatherhead 100 is an annual award given by the Case Western Reserve University Weatherhead School of Management to Northeast Ohio's exceptional entrepreneurs who lead the way to economic success in the region.
For more information about True Hire, visit www.true-hire.com. Complete results of the Inc. 5000, including company profiles and an interactive database that can be sorted by industry, region, and other criteria, can be found at www.inc.com/inc5000. The top 500 companies are featured in the September issue of Inc. magazine, which will be available on August 23, 2022.
True Hire's headquarters is located at 11366 Cleveland Avenue Northeast in Uniontown, Ohio, about 5 miles northeast of I-77 and the Akron-Canton Airport. True Hire has an additional location at 4650 Hills and Dales Road, Suite 320 in Canton, Ohio.
For more information, please contact:
Beth Karapandzich
Marketing Coordinator
marketing@true-hire.com
(800) 262-7301
More about Inc. and the Inc. 5000
Methodology
Companies on the 2022 Inc. 5000 are ranked according to percentage revenue growth from 2018 to 2021. To qualify, companies must have been founded and generating revenue by March 31, 2018. They must be U.S.-based, privately held, for-profit, and independent—not subsidiaries or divisions of other companies—as of December 31, 2021. (Since then, some on the list may have gone public or been acquired.) The minimum revenue required for 2018 is $100,000; the minimum for 2021 is $2 million. As always, Inc. reserves the right to decline applicants for subjective reasons. Growth rates used to determine company rankings were calculated to four decimal places. The top 500 companies on the Inc. 5000 are featured in Inc. magazine's September issue. The entire Inc. 5000 can be found at http://www.inc.com/inc5000.
About Inc.
The world's most trusted business-media brand, Inc. offers entrepreneurs the knowledge, tools, connections, and community to build great companies. Its award-winning multiplatform content reaches more than 50 million people each month across a variety of channels including websites, newsletters, social media, podcasts, and print. Its prestigious Inc. 5000 list, produced every year since 1982, analyzes company data to recognize the fastest-growing privately held businesses in the United States. The global recognition that comes with inclusion in the 5000 gives the founders of the best businesses an opportunity to engage with an exclusive community of their peers, and the credibility that helps them drive sales and recruit talent. The associated Inc. 5000 Conference & Gala is part of a highly acclaimed portfolio of bespoke events produced by Inc. For more information, visit www.inc.com.
For more information on the Inc. 5000 Conference & Gala, visit http://conference.inc.com/.