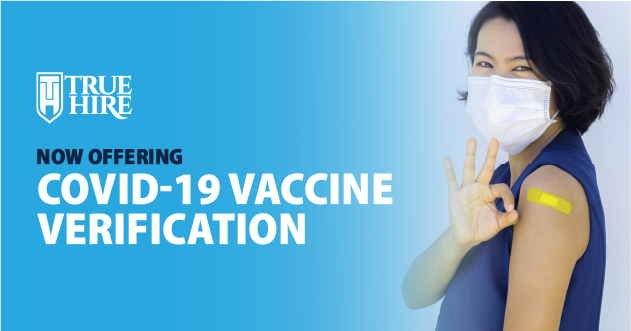 Are your employees or volunteers required to be vaccinated against COVID-19? True Hire is now offering COVID-19 vaccine verification to help make your job easier!

Whether your industry is mandated by the government to have your employees or volunteers vaccinated against COVID-19 or you're choosing to require vaccinations for your workplace, True Hire is here to provide our expertise and help save you valuable time and effort.

You can set up our new COVID-19 vaccine verification as a standalone service or add it onto your existing background screening package. It's super easy to get started!
Need to Hire in Minutes? True Hire has You Covered!
Hiring on the spot has become extremely popular among businesses that are understaffed. If that is the case for your company, you are in need of Background Checks in Minutes! Reach out today to learn how we can cut your turnaround time in half! 800-262-7301, sales@true-hire.com, or chat with us.
The staffing demand in combination with a supplies shortage, plastic shortage and the requirement for the use of the new chain-of-custody form for DOT testing, have caused an extreme backlog and delays at every major laboratory. On top of these challenges, many major laboratories have struggled with COVID outbreaks in their offices. We are seeing a longer turnaround time due to these circumstances.
If these updates impact your company, True Hire will reach out and provide a workaround to maintain an efficient background check process.
Michigan Date of Birth Redaction
As a workaround to the DOB redaction for Michigan applicants, True Hire is using MI CHAT (Michigan Criminal History Access Tool) which is the only public resource for name-based Michigan criminal history background checks. However, ICHAT does not include misdemeanors and traffic records that are punishable by less than 93 days of incarceration. ICHAT also omits the vast majority of pending cases.
Is Your Company Prepared for the Post-Pandemic Hiring Spree?
As the U.S. begins to see the pandemic in the rearview mirror, the need for workers is unprecedented. A hiring spree is going to be in full effect and companies need to...
Get Started with True Hire
It's easy, and you can complete it online.