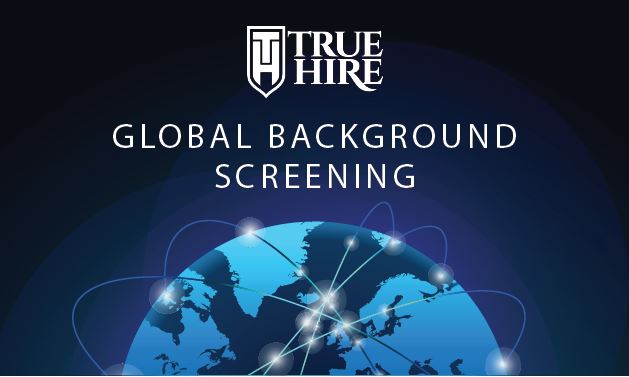 Recently, the need for International Background Screening services is on the rise due to increased demand by employers. Did you know that over 15 percent of the U.S. workforce was not born in the United States? The increase of many foreign-born employees, along with security risks since 9/11 and conflicts in the Middle East, have greatly affected our need for safety and protection in the workplace. True Hire can provide you with all of the Global Background Screening Services necessary to ensure a safer, more efficient workplace while working in compliance with respective legal regulations. While International Background Checks and Pre-Employment Screening can be more complex than those here in the United States, True Hire has the tools and technology required to meet all of your needs. Below are some basic differences in foreign and domestic verifications, along with some information to help understand the increased involvement and required documentation necessary for these services.

CRIMINAL RECORDS REPORTING
There are a few major differences in the reporting of criminal records internationally.
Most countries don't label criminal records by type depending on the degree of the offense. Labeling criminal records as Felony or Misdemeanor is unique to the U.S.
Some areas destroy their records after the individual has completed their sentence. In this case, the criminal history is unavailable.
The pricing in and turnaround time for criminal records vs. civil records in the same region can vary greatly due to the location of these records. While both civil and criminal records are kept in county courthouses in the United States, they are housed in different locations in other countries. Criminal records are kept by police and government entities while civil records are filed through the court system.
DELAYS
While international background checks can require more time to process, we can complete verifications in most countries within 7-10 business days. In more commonly searched countries, the turnaround time can be as quick as 6 business days.
When we do encounter delays in the results of these services, it is often due to the abundance of holidays observed in different parts of the world. In some places, courts and government entities can be closed for entire months at a time in observance of various local and religious holidays.
DOCUMENTATION / ADDITIONAL INFORMATION:
Due to the strict data privacy laws enforced by some countries, international searches require much more documentation than those conducted in the United States. While these laws can limit the amount of information we receive, almost every country has a way of obtaining the information needed.
When verifying education, a copy of the student's degree is often a requirement in foreign countries. Many schools keep education records in numeric filing systems. The number record on the degree or certificate indicates where the degree is filed with the school. Also, many schools consider examination and authentication of the degree to be a part of the verification process. On occasion, this can cause a delay in the verification process.
EMPLOYMENT VERIFICATIONS
Often to verify former employment, and sometimes education, a contact name may be required. Simply asking for someone in Human Resource does not always work internationally. Many institutions require a specific contact name prior to transferring your call for verification.
EDUCATION VERIFICATIONS
An education verification confirms educational background information including dates of attendance and the highest degree received.

DRIVING RECORDS
Obtaining driving records in some countries can be very difficult. Some countries only provide records for commercial drivers, while others don't have effective systems to track violations.
In some areas, records of violations and accidents are kept under the vehicle registration rather than the individual's license number.

REFERENCE CHECKS
Verifying an applicant's references provides a more detailed insight into his or her work history. References can provide you with qualitative information regarding the applicant's track record; communication and work styles; a sense of responsibility; strengths and weaknesses; and interpersonal skills.